| | | | | | |
| --- | --- | --- | --- | --- | --- |
| | We Receive Your Credit Report | | We Analyze and Formulate A Strategy For Optimal Results | | Dispute Process Begins |
Remember, with our DisputeSuite client portal, you're able to check on the status of your account 24/7!
What's in your FICO® score
FICO Scores are calculated from a lot of different credit data in your credit report. This data can be grouped into five categories as outlined below. The percentages in the chart reflect how important each of the categories is in determining your FICO score.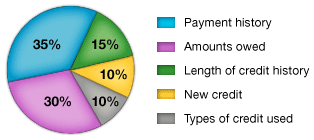 These percentages are based on the importance of the five categories for the general population. For particular groups - for example, people who have not been using credit long - the importance of these categories may be somewhat different.
"I felt completely lost and overwhelmed by my credit.  Clear Start Credit Repair really put me at ease and treated me with respect.  Now my credit score is recovering and I feel like I've got control again."
- Marcia P.

"My sister told me about your service and I couldn't be happier.   Now that our credit scores have improved my husband and I have begun searching for our first home!"
- Hanna K.

"I am impressed with the ease of the whole process and very pleased with the results.  Thank you, I will certainly reccomend your service to friends."
- Victor D.

"Thank you Clear Start!  This was money well spent!  My FICO score is climbing and I feel like I have my freedom back." 
- Stephen L.

"I love that I could login and track the progress of my credit disputes.  Each time I see that something has been repaired I feel like a weight has been lifted."
- Golima S.